Due to the coronavirus pandemic, Shop! D-A-CH e.V. again held the POPAI Award in purely digital form this year with short videos about the exhibits.
For the second time in a row, the Gissler & Pass and Teamwork Agentur für angewandtes Marketing team convinced the panel: the promotional display 'Muscle Car' for Monster Energy Drink was nominated for the coveted industry award!
In this POS presentation, the energy drink "Monster Nitro Super Dry" is promoted. It is infused with nitrous oxide (laughing gas) for a unique texture and unparalleled boost. In keeping with the theme, the attention-grabbing POS presentation made of 100% corrugated cardboard picks up on the design of a powerful muscle car and is aimed at young motorsport fans.
The size and colouring alone make it a real eye-catcher.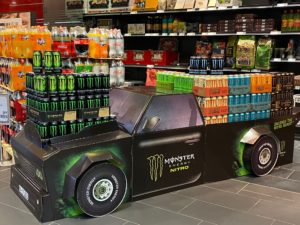 As a large-scale placement in food retail, the Muscle Car offers space for a considerable five ¼-chep pallets, which can be exchanged quickly and easily thanks to clever plug-in connections in the display.
For petrol stations and smaller outlets, there is a second, smaller version of the muscle car for a ¼-chep pallet.  
In a disassembled, packed state, the POS set maintains a belt dimension of just 80 cm wide and fits comfortably in any car boot. In addition, the muscle car can be set up easily and quickly in max. 10 minutes by any sales consultant on site.
On 7 March 2022, the meeting of the independent panellists from brand, trade, design and science took place to evaluate the almost 40 entries from 15 categories.
The public award can be voted on again in 2022 from 1/04/2022 via the POPAI D-A-CH Awards Instagram page. An iPad will be raffled off among all participants.
At the awards ceremony in June 2022, Gissler & Pass and its client will find out whether the POS staging will be awarded gold, silver or bronze.