Your sales space in a special light.
Customised to suit your needs and budget ‑ we will help stage your product just perfectly. Posters, advertising kiosks, and test/tasting stands can give your presentation added attractiveness, just like corner boards, standees, and information terminals. Our creativity knows no bounds. At your request, we will heighten the POS promotion's sales-boosting impact by adding multi-sensory effects (sound, light, motion modules) or refinement technologies.
We're looking forward to your request!
What are promotion displays?
"Promotion" is a particular type of advertising. In general, customers get product samples or a taster during this type of campaign. Promotion displays provide interaction at the point of sale.
However, promotion displays are not necessarily stocked with goods. The often serve as an additional eye-catcher in the market. Stands accompanying the goods draw the customers' attention to a specific product and provide additional space for advertising messages.
What types of promotion displays are there?
Popular variants are:
Promotion pillars
Standees
Test and tasting stands
Pallet corners
Posters and cubes on telescopic rods, and
Toppers for displays.
In order to increase the sales-promoting impulse effect of promotion displays, multi-sensory effects can be integrated. Sound, light or movement modules are possible. Finishing techniques additionally emphasise the high quality of the product and brand.
Promotion pillars offer a continuous advertising panel. They are available in a variety of models with and without shelves or dispensers, as
round pillars,
elliptical pillars,
triangular pillars, and
square pillars.
Whether it's life-size testimonials, oversized standees in the shape of the product or simply large advertising posters, they all serve as an eye-catcher at the overstimulated POS and as a customer stopper. Standees are generally used to flank promotional materials such as display placements in order to increase awareness and communicate additional messages.
For food, purchasing decisions are made by the stomach. The actual taste experience cannot be conveyed through poster advertising. Particularly for newly launched products or brands, test and tasting stands are the promotional element. Promotion displays draw customers in with their luxurious, appetising design.
Pimp up your Display: pallet corners
Enhancement of goods which are sold directly from Euro pallets or on standard/logistics displays is done, for example, using pallet corners: attached in a few simple steps, they are unique eye-catchers right at the POS and inform consumers about topical offers. The goods remain easy to pick up from the pallet. At the same time, thanks to the large communication surface, customers notice the products from afar.
Posters and cubes on telescopic rods
Your brand message will not go unnoticed thanks to the special placement aloft: Posters, cubes, product simulations or other elements on telescopic rods offer advertising space in an area which is generally poorly exploited. Customers use them for orientation in large markets. Thanks to poster images on multiple levels, 3D with pegs, or with real competition prizes (e.g. football jerseys, plush animals, sledges), an increase in attention is guaranteed.
Superstructures for displays
As superstructures, promotion displays act as unique eye-catchers: they embed displays which will hold goods into small experience worlds. Round or square stamped contour variants are possible, or as stalls or winter cabins, for example.
What products are promotion displays suitable for?
Promotion displays are a perfect choice for almost all types of products because they can flexibly complement any secondary placement as a promotional measure: from sausages, cheese and confectionery through drinks and pet food to household appliances.
As an advertising medium, promotion displays are ideally suited for…
product launches,
trial promotional prices,
seasonal items, or
to supplement a complete marketing concept.
What material are promotion displays made from?
Promotion displays are predominantly made from corrugated board. Materials such as plastic or metal can also be used in addition.
Promotion displays offer more
More visibility as an eye-catcher at POS: the strength of promotion displays lies in their striking design. The stand-up display addresses customers emotionally. Stamped contour elements which draw the eye provide orientation.
More information: in addition to their function as customer stoppers, promotion displays invite consumers to find out more about your brand and other products which are available thanks to their large areas for product information, brand messages and opportunities for interaction. They tell a story – designed in 3D – at POS.
Cost-effective variants: do you have standard displays which need a bit more promotion? Supplementary promotion displays is the form of decorative pillars, standees or similar give you the option of putting existing displays into a new and eye-catching setting.
More time savings thanks to easy handling: it only takes a few minutes to set up the promotion display at POS and jazz up load-carrying displays.
More environmental friendliness: corrugated board is environmentally friendly. At the end of the promotional campaign, you fold the display up and recycle it.
More reach thanks to word of mouth: whatever the purchase, customers talk about their purchase. A promotional campaign at POS offers a talking point within the family, between friends, and between colleagues. This means a lasting advertising effect for you.
FAQ: Your most frequently asked questions – our answers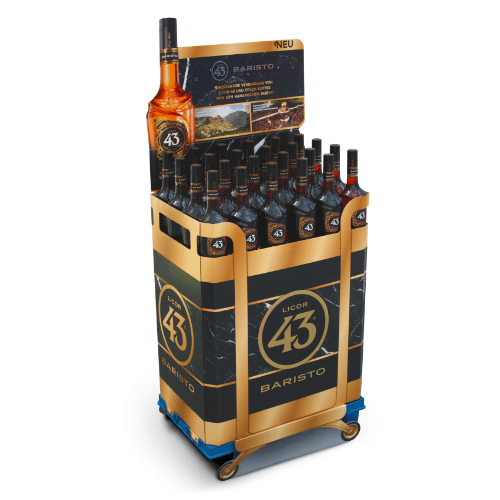 Adapts to your needs, wins over customers.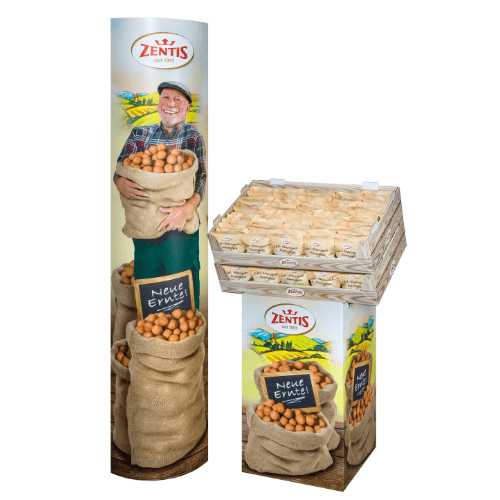 Leader of the pack in secondary placement.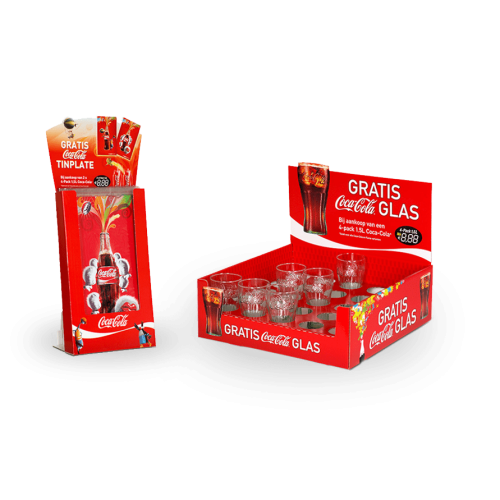 Small carriers, big effect.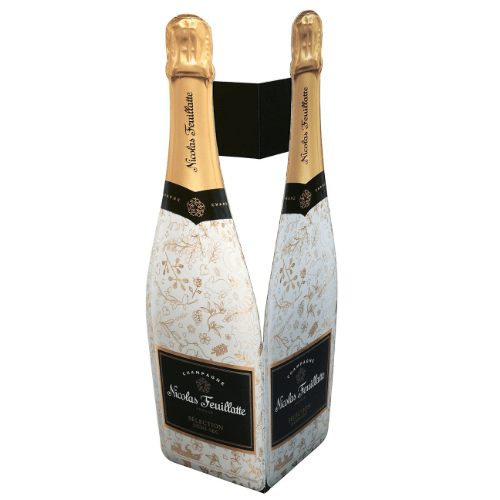 Your sales space in a special light.