Leader of the pack in secondary placement.
GISSLER & PASS's floor displays are guaranteed to present your products in the proper light. Individual and custom-designed for maximum impact at the POS, they are very effective at eliciting impulse buys. At the same time, there are easily placed and can be enhanced with attractive accessories as desired.
We're looking forward to your request.
Floor displays, or floor stands, are advertising materials for the secondary placement of goods directly at the point of sale (POS). They are suitable for the creative presentation of goods in specialist shops with small placement areas, chemists, petrol stations or pharmacies and are placed directly on the floor with no pallet. Open spaces in the middle of the store, as well as floor space around the edge or near the shelves, are used for this. Thanks to the prominent placement, floor displays draw customers' attention as a standard or customised solution and tempt them into impulse purchases.
Floor displays are particularly suitable for light products and are delivered to retailers loaded or packaged flat. Floor displays in the form of convenience displays are frequently already stocked with goods and allow for rapid and easy installation in specialist shops.
What are floor displays suitable for?
Floor displays are perfect…
for product and brand launches: Present your goods excitingly and in an experience-oriented manner.
for seasonal goods: Make consumers aware of current seasonal products.
for marketing campaigns: Allow customers to interact with your brand with promotions, prize draws and competitions.
for sales: Get rid of goods which you don't want to carry in your product range in the long term.
Materials: floor displays from basic to deluxe
Floor displays are available in a wide range of designs, from simple to elaborate. Environmentally friendly models made from corrugated board are a good choice for shorter term advertising campaigns: they can be set up quickly and can be disposed of and recycled just as quickly once the advertising campaign is over.
Want to reach a young, technology-conscious audience? You can also equip your floor display with touchpads, monitors and/or lighting. These elements enhance your brand and product presentation. The multimedia character also invites customers to interact.
Benefits of floor displays
Most customers only make their purchasing decision at the point of sale. A study by Germany's largest market research institute, GfK, comes to this conclusion. Even if your brand or your product was unknown until now: you can make your voice heard with floor displays. Striking top signs with a stamped contour and a creative design anchor your message in the consumer's mind and direct attention to the products on offer.
Floor displays at the point of sale…
attract plenty of attention.
provide orientation for consumers in the jungle of products.
offer customers a wide variety of ways to interact with your brand.
inspire customers to make impulse purchases.
communicate your brand's message and values.
increase your sales.
Why floor displays from GISSLER & PASS improve your commercial success
The design of our floor displays is optimised for rapid sales. GISSLER & PASS knows what manufacturers of branded goods and retailers want. We implement display concepts which promise success for you.
These include floor displays…
with hooks for hanging goods,
with chutes for loose items,
in the shape of a product (for example in the form of a can for selling drinks),
with accompanying advertising materials such as decorative columns and/or stand-up displays
in the form of convenience displays – out of the packaging and set up in one motion, and already stocked with goods, and
much more.
GISSLER & PASS: a family company with its finger on the pulse
Do you have a particular idea or a special request? Talk to us! We always welcome a challenge! Our company is characterised by quality, flexibility and creativity. Unusual project ideas spur us on!
With GISSLER & PASS, you benefit from…
Competence and many years of experience.
Inventiveness in keeping with our motto: "Think no limits!"
Display solutions perfectly tailored to your requirements and what your customers want.
Reliability and a traditionally dependable service.
An atmosphere or family and partnership. To us, you are not a number.
An excellent price/performance ratio.
Ideal marketing at the point of sale
Individual: Our floor displays are customised / tailor-made. We implement your specific desires and stage your brand promises appropriately for the POS.
Innovative: Special products demand special solutions. We develop entirely new floor displays, innovative and functional, for you or optimise existing floor displays using little tweaks with big effects.
Efficient: At GISSLER & PASS, one hand knows what the other is doing. You benefit from an efficient team who pursue one goal: implementing your project promptly and optimally. Our portfolio of standard designs also offers you quick and efficient project implementation.
Flexible: We work at various production sites and distinguish ourselves with high-performance logistics. This flexibility means that we are able to rapidly realise and deliver your floor display.
Complete: With GISSLER & PASS, you get everything in one place, from the concept through digital design of your floor display in 3D, through production of the white sample to series production and, upon request, through to complete loading with goods (co-packing).
As a floor display manufacturer…
we provide you with our pooled experience, creativity and flexibility.
we effectively bring your products to the fore in floor displays.
the GISSLER & PASS team develops a perfect display solution for you.
we are at your side as a partner throughout the process.
only one thing matters to us: your satisfaction. We put your commercial success at the centre of our efforts. Because we know what matters.
Printing and finishing options for your floor display
Should your floor display be something quite special? In addition to the common printing processes of offset printing, flexographic printing, digital printing and preprint, we also offer you finishing options which you can use to create unique accents. Your brand and your product look even more striking as a result:
Drip-off/matt and gloss effect
Touch effect
Hot/cold foil embossing
Inset/raised embossing
Micro embossing
Interested in a floor display? Contact us for an individual quote on +49 (0)2461/684-0 or by email at: hello@gissler-pass.de
We look forward to hearing from you!
FAQ: Your most frequently asked questions – our answers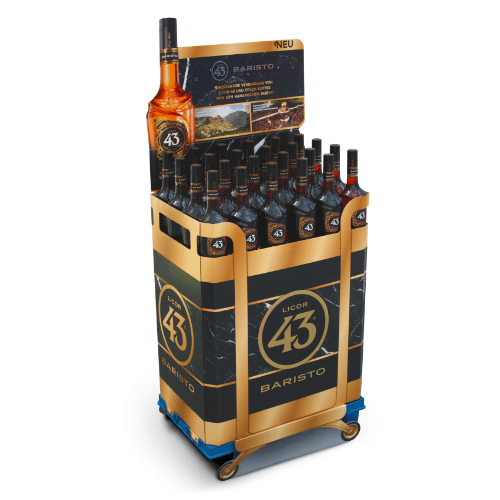 Adapts to your needs, wins over customers.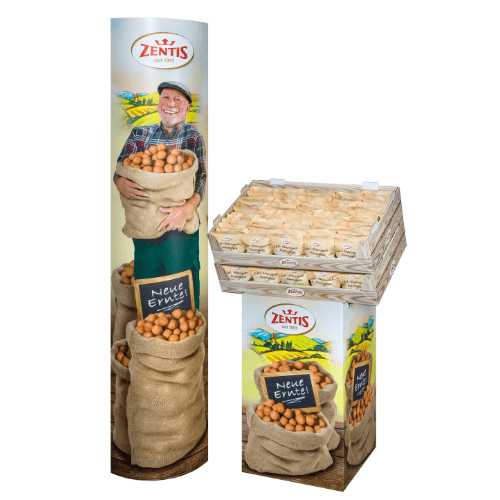 Leader of the pack in secondary placement.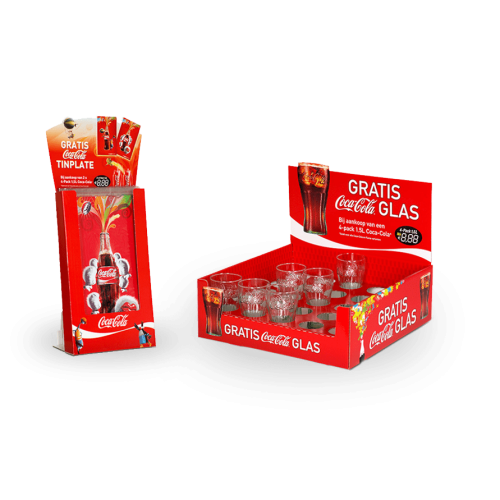 Small carriers, big effect.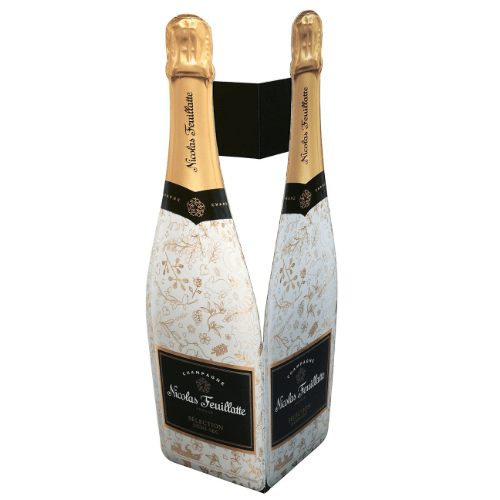 Your sales space in a special light.