Gissler & Pass has raked in not less than three awards at the display Superstar Awards 2022 ceremony held on 8 November. Especially impressive: Having scooped up 2 x GOLD last year, Pernod Ricard Germany's Ramazzotti On-Pack Promotion was awarded PLATIN in this year's competition! In addition, the GP team received SILVER twice for the Monster Energy large-scale display and the Havana Club influencer box.
PLATIN: Ramazzotti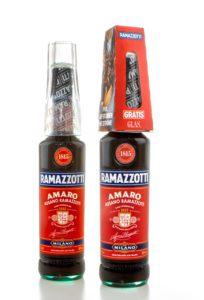 On-Pack Promotion
The smart packing solution made of 100% corrugated cardboard substitutes the plastic blister material used to date. It was awarded gold in 2021 in the category 'packing' and also won the jury's special prize 'Innovation'.
Made of fine corrugated board, the on-pack packaging can easily be recycled after use in an environmentally friendly way. The sophisticated design is assembled simply by sticking and offers enough stability even without using glue. The glass is safeguarded against damage and at the same time securely fixed at the bottleneck.
Beside the concept of sustainability, the newly developed corrugated cardboard solution offers advantages in that it can also accept custom, brand prints both on the inside and outside
SILVER: Monster Kontra-K Promotion

Rapper Kontra K is a prominent advertiser of energy drink brand Monster Energy. Monster Energy held an exclusive summer raffle to get out tickets for one of his concerts, promoting the campaign with a large-scale POS display incorporating a monumental arch, a large-scale cardboard figure, and ¼-Chep displays.
The arch's visual power is rounded off by its clever function as product carrier, with the Monster cans being placed directly in the columns and the 3D boxes creating the proper gig atmosphere.
The kicker: standing an impressive 2 meters in height and 2.30 meters in width, the arch is designed so cleverly that it can be folded to just 80 cm across when packaged.  
SILVER: Influencer Box
X Capo
Havana Club launched its first limited edition in the ready-to-drink line of products. The rum brand works with German artist and rapper Capo for the roll-out of the 'Havana Club X Capo' limited-edition can.
Gissler & Pass has come up with an eccentric, poker-style slipcase giftbox for the product roll-out. The idea of arranging a poker hand (10 cards) from the card deck that comes with the box 'as if on one hand' gives the box a groovy wow effect when unpacked. The boxes are handed out by Pernod Ricard Germany to specific influencers, young target audiences, and well-known social media figures who promote these new products across all channels.
The industry competition saw the honouring of last year's best POS promotion items and display solutions. 22 companies with 58 nominated displays in total presented cutting-edge promotion and advertising solutions, thereby demonstrating POS marketing's innovation power. 33 winners received at least one award.