Gissler & Pass scored again at this year's display Superstar Award: the imposing POS placement for Eggers & Franke's The Kraken rum convinced the jury of experts as an effective advertising eye-catcher with a WOW effect and won GOLD in the corrugated board small series category.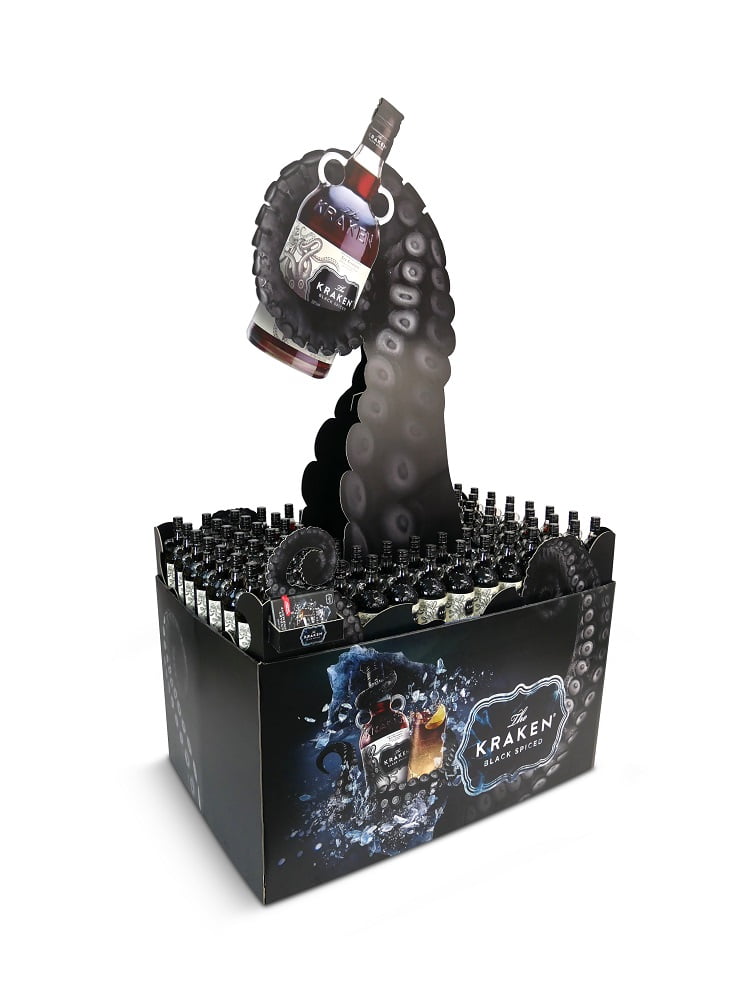 The Kraken 
Spectacularly, this full pallet display with a total height of two meters brilliantly implements the legend of black rum:
According to an old legend, one of the largest cargoes of Caribbean rum was sunk by the Kraken, the most fearsome of all sea monsters, and never resurfaced. This is where the success story of The Kraken comes in. Like the ink of the monster, The Kraken is black and powerful. Thanks to its unique character and impulsive set, The Kraken has achieved absolute cult status in a very short time.
The outstanding tentacle, which has a firm grip on the rum bottle, is the focal point of this POS display and can be seen from afar. The sophisticated plug-in design of the display makes it easy and uncomplicated to set up: delivered in a handy deco package, the sales force can assemble and equip the placement at the point of sale in about 10 minutes. The tentacle as the central element consists of only one part and is simply plugged into the base. The corners of the display shell are also for plugging in, as is the accompanying dispenser for flyers.
The dark print image, implemented in high-quality digital printing with many deep black elements, underlines the brand message of the rum and brings the legend of the sea monster to life.
The 64 nominated displays presented themselves in the Rheingoldhalle in Mainz on October 17 and 18. 67 brands presented their latest solutions for sales promotion, communication and product presentation, thus demonstrating the innovative power of POS marketing.