After two years of abstinence, there was no classic gala at the POPAI Award 2022, but a new start with a really big party in Düsseldorf. Here, the packaging specialist Gissler & Pass received the Golden Indian for the large POS placement 'Monster Muscle Car'!
With this award, the family-owned company achieved 1st place at the POPAI Award for the fifth time.
In this POS presentation, the energy drink "Monster Nitro Super Dry" is promoted. It is infused with nitrous oxide (laughing gas) for a unique texture and unparalleled boost. In keeping with the theme, the attention-grabbing POS presentation made of 100% corrugated cardboard picks up on the design of a powerful muscle car and is aimed at young motorsport fans.
The size and colouring alone make it a real eye-catcher.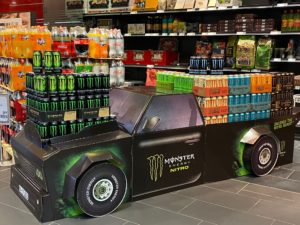 As a large-scale placement in food retail, the Muscle Car offers space for a considerable five ¼-chep pallets, which can be exchanged quickly and easily thanks to clever plug-in connections in the display. For petrol stations and smaller outlets, there is a second, smaller version of the muscle car for a ¼-chep pallet.  
In a disassembled, packed state, the POS set maintains a belt dimension of just 80 cm wide and fits comfortably in any car boot. In addition, the muscle car can be set up easily and quickly in max. 10 minutes by any sales consultant on site.