At a graduation ceremony on 28th August 2017 in Jülich, directors and apprentices from Gissler & Pass congratulated Laura Müller, Dennis Kalb, Astrit Osmani and Nils Senckel on successfully completing their apprenticeships.
"The training of our junior employees is particularly close to our company's heart," said Thomas Gissler-Weber. "That is why we strive to provide a comprehensive and multi-faceted education. It is therefore important to have confidence in the young people and to allow them to independently supervise operating areas early on. That motivates them and teaches independent work."
Resultantly, Laura Müller has accepted a position in the company's export team and the supervision of important branded products as a direct result of her apprenticeship.
Greeting the new apprentices
On the other hand, still at the start of their career, we have Kathrin Pörner (Jülich) and Lennhard Hofrichter (Rodenberg) who started their apprenticeship as an industrial management assistant with the corrugated cardboard specialists on 1st August, as well as Jan-Niklas Witte (Rodenberg) as new apprentice packaging technician.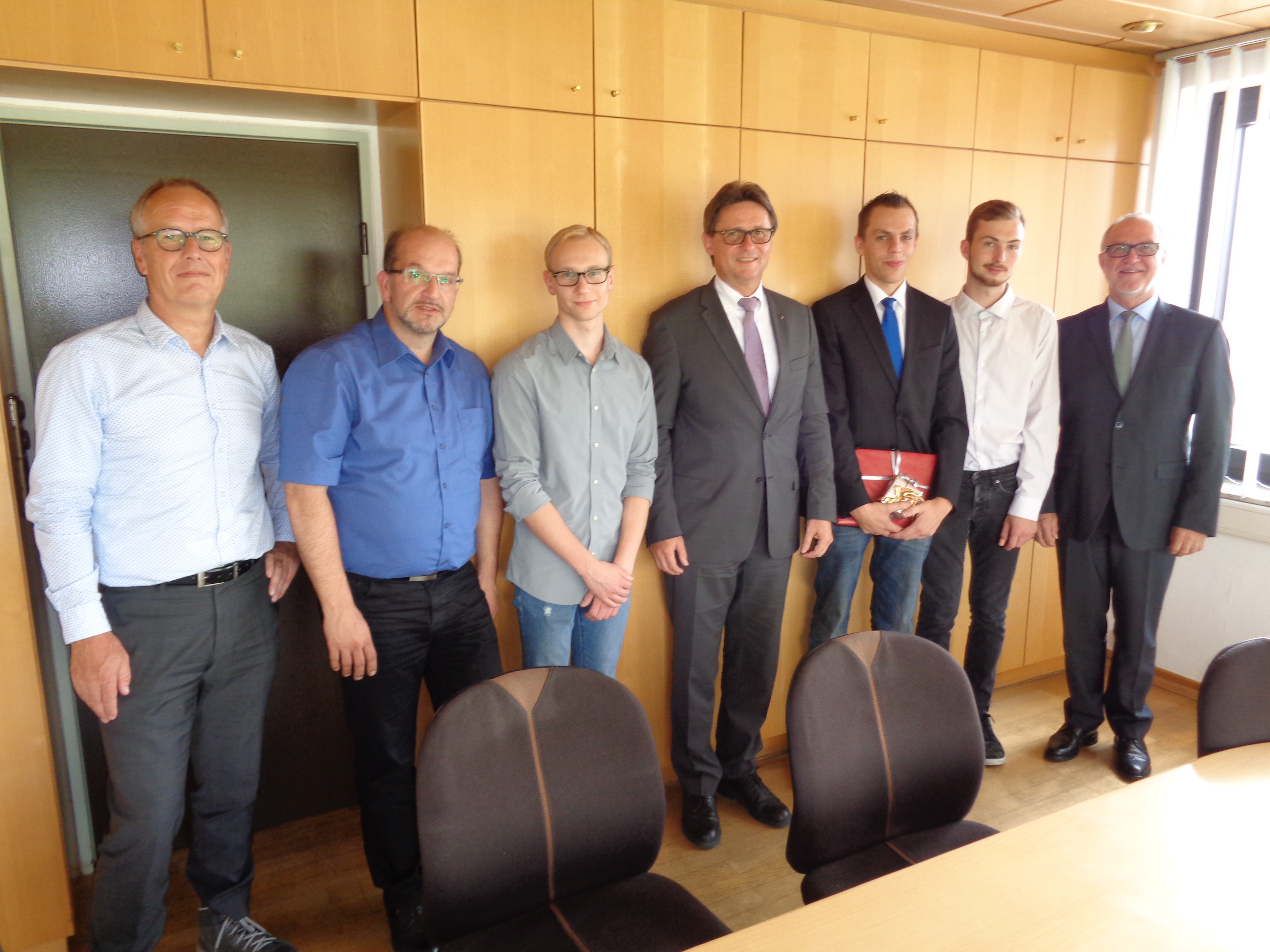 f.l.t.r.: Heiner Stelter (Plant Manager Rodenberg), Frank Bollhöfer (Packaging Design Rodenberg), Lennhard Hofrichter (new apprentice industrial management assistant), Thomas Gissler-Weber (Managing Director), Kristof Milewczek (graduate packaging technician apprentice), Jan-Niklas Witte (new apprentice packaging technician), Manfred Schlapps (Managing Director)
In the course of the 3-year apprenticeship to become an industrial management assistant, our junior employees learn the operating procedures of the numerous purchasing, manufacturing, distribution, accounting and HR departments and recognise how the different areas work together. The specialist knowledge gained through experience is rounded off by attending a vocational college and through internal company training courses.
Gissler & Pass was not successful in finding qualified apprentices for this year for the job descriptions of packaging technician and printing media technologist. Both of these careers offer a diverse and exciting range of tasks.
Hidden behind the title of packaging technician is a range of training and development opportunities for young people which you would hardly expect: From the computer-aided development and construction of packaging, through its implementation into the production plan, to the operation of highly complex production systems, many fields of application are possible according to creative and technical abilities. The prerequisites for this career are, firstly, a love of technology, an interest in and understanding of machinery and equipment, a broad imagination, manual skills and a natural team spirit. High-tech, creativity, design and brands best describe the packaging technician's work environment at Gissler & Pass.
"The great thing about this multi-faceted career is working independently and autonomously on and with the product," says newly qualified packaging technician, Astrit Osmani. "After completing my apprenticeship I got on board at the folding box gluing machine which is notoriously one of the most challenging tasks in packaging production. Here you can gain and apply your own knowledge and instinct."
The company will also offer young people a chance to undertake an apprenticeship in the above-mentioned careers in 2018. Mr Kelzenberg recommends that those interested apply for a space this autumn as the selection process for next year could otherwise have already taken place.
Cover photo from left to right: Rolf Hompesch (trainer), Kathrin Pörner (new apprentice industrial management assistant), Thomas Gissler-Weber (director), Astrit Osmani (graduate packaging technician apprentice), Laura Müller, Nils Senckel (graduate apprentice industrial management assistant, Manfred Schlapps (director) not present: Dennis Kalb (graduate packaging technician apprentice)