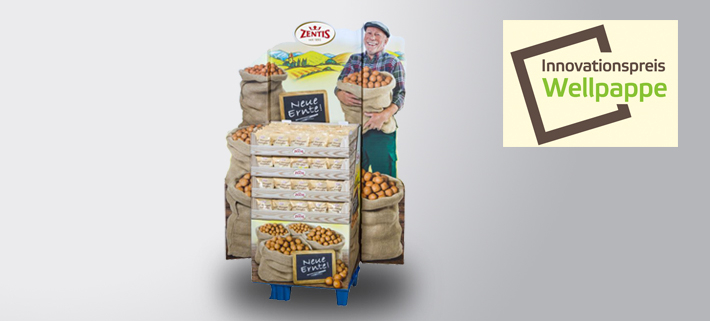 During the award ceremony at the Forum Wellpappe platform of 26 September, the Zentis display titled 'New Harvest' from Gissler & Pass won the third place trophy of the 'Goldene Welle' 2018 innovation award, which is sponsored by the Association of the German Corrugated Board Industry (VDW).
Together with its customers Zentis and L'Oréal, the packaging expert had already picked up two silver Indians at the POPAI awards 2018 in the summer of this year.
"We're very pleased with the outcome and proud of the outstanding team achievement. For us, the distinction of being honoured in not less than two prestigious competitions comes as a great affirmation of our innovation power and technical excellence, as it goes to show that we know and understand the demands of brand manufacturers and the retail sector, which we then put into winning POS solutions", said Thomas Gissler-Weber, CEO for Gissler & Pass GmbH. "We also thank the jury and our customer Zentis, because it really takes a close collaboration to translate the initial idea into a marketable display concept that turns out successful for all parties."
The creative design of this second-placed offering, with embossed wings and the association with real potatoes with the theme 'New Harvest' surprises customers in a clever and congenial way, and delivers an emotional response, leading to impulse buys.
The sophisticated product holder on the embossed rear panel allows the fitted ¼ Chep Display to be transported safely and securely without the need for cushioning or protrusions. The campaign was very noticeable, as it was placed in unusual places for confectionary – in the fruit and vegetables section, for example – and was so successful that it will be (was) repeated in the spring and autumn of 2018.
Foto f.t.l: Erdogan Karakavuz, Team Leader Packaging Design Gissler & Pass GmbH, Steffen P. Würth, Chairman of the VDW (Source: VDW e.V.)