Together with long-standing customer and partner, the Chocoladefabriken Lindt & Sprüngli GmbH, Gissler & Pass GmbH fetched the bronze statue at this year's awards ceremony of the POPAI Awards in Frankfurt.
What won the jury over is a classy product display for Lindt & Sprüngli's pick & mix products, which lets buyers put together their very own individual mix of fine Lindor varieties. Made of a mix of materials and specifically designed for this particular range of products, the attractive, 1/4 chep display allows consumers to create their own personal mix of the nine different Lindor varieties. While it does this in a very straightforward and intuitive way, it also reflects the brand's claim to premium quality. The POS display is to be set up for a couple of months in small specialist shops and Lindt Chocolate shops.
"We're very pleased with the outcome and proud of the outstanding team achievement. For us, having earned the POPAI Award is a great affirmation of our innovative strength and technical competence. It encourages us in our efforts to find the perfect solution for our customers at all times", said Thomas Gissler-Weber, CEO for Gissler & Pass GmbH. "We also thank the jury and our customer Lindt & Sprüngli, because it really takes a close collaboration to translate the initial idea into a marketable display concept that turns out successful for all parties."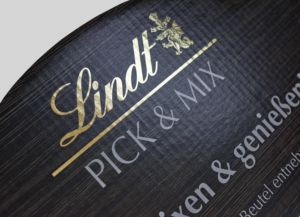 Alongside the top-class finish and quality of print, melding ruggedness with a delicate and airy appearance remains a particular challenge in the creation and manufacture of displays for the upmarket sweets segment. The 1/4 chep premium display, which features a hot foil-finished corrugated-cardboard pedestal and top sign, is combined with a 3×3-compartment, acrylic glass chute for the different Lindor varieties. Thanks to the robust design, the pedestal can carry a weight of about 60 kg, giving the display a long service life for multiple rounds of refilling on location. The pouches and cups are cleverly integrated into the pedestal, allowing for easy access.
This year we received over 60 entries in 15 categories, and the 25-person jury, experts in marketing, branding, trading, design and teaching determined the winner during the exhibition in February at the EuroCIS trade fair in Düsseldorf.