Together with the client VILSA-BRUNNEN Otto Rodekohr GmbH & Co. KG, Gissler & Pass fetched the bronze statue at this year's awards ceremony of the POPAI Awards in Düsseldorf.
The team was honoured in the "beverages & tobacco" category for the POS display of the VILSA Chardonnay Traubenschorle non-alcoholic in 0.33l cans.
"We're very pleased with the outcome and proud of the outstanding team achievement. For us, having earned the POPAI Award is a great affirmation of our innovative strength and technical competence. It encourages us in our efforts to find the perfect solution for our customers at all times", said Thomas Gissler-Weber, CEO for Gissler & Pass GmbH. "We also thank the jury and our customer VILSA, because it really takes a close collaboration to translate the initial idea into a marketable display concept that turns out successful for all parties."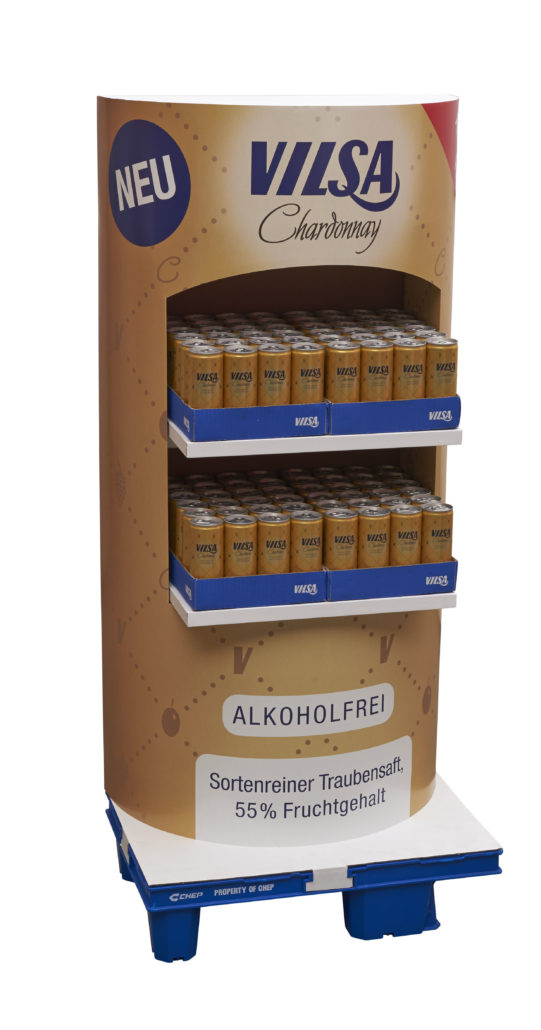 The high-profile ¼-chep display designed to support the product rollout of 'VILSA Chardonnay Traubenschorle non-alcoholic' picks up on the shape of the new VILSA can to deliver an original and appealing brand presentation for the food and beverage retail sector.
The product-specific POS design is bound to boost brand recognition and pique people's curiosity.
On top of that, thanks to the display's excellent stability the two product tiers can protrude far beyond the display body despite the high load (48 cans per tier) to present the new VILSA product in the proper light. This makes it clear that the beverage can is the star here and the centre of attention.
POPAI D-A-CH e.V. is a non-profit organisation that sees itself as a "centre of competence and communication platform for the retail marketing segment". Alongside criteria such as aesthetics, design and creativity, the independent jury also judges aspects like trade compliance or the impact on buying behaviour.