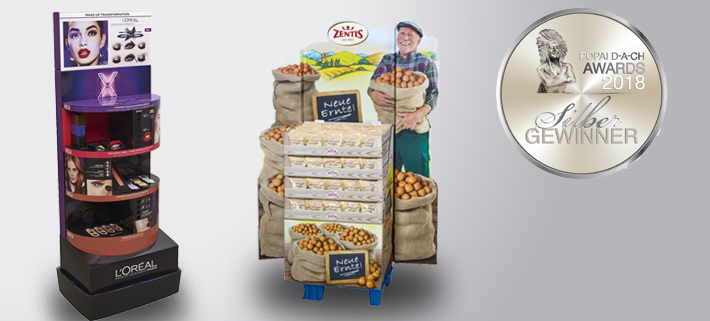 At this year's POPAI D-A-CH Awards ceremony in Frankfurt-am-Main, the expert jury honoured not one but two POS displays developed by Gissler & Pass: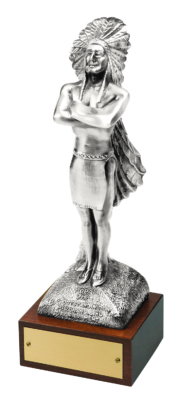 both the Zentis 'Neue Ernte' display for the classic marzipan balls, and the X Fiber Display for L'Oréal for the introduction of various make-up products received the coveted silver trophy.
"We're very proud that our displays once again came second in this competition," said Thomas Gissler-Weber, director of Gissler & Pass GmbH. "But much more important is that the display solutions were successful for our customers, Zentis and L'Oréal. This shows that we know and understand the standards of brnad-name manufacturers and trade, and that we can translate that into successful POS concepts."
Zentis 'Neue Ernte'
The creative design of this second-placed offering, with embossed wings and the association with real potatoes with the theme "Neue Ernte" surprises customers in a clever and congenial way, and delivers an emotional response, leading to impulse buys. The sophisticated product holder on the embossed rear panel allows the fitted ¼ Chep Display to be transported safely and securely without the need for cushioning or protrusions. The campaign was very noticeable, as it was placed in unusual places for confectionary – in the fruit and vegetables section, for example – and was so successful that it will be (was) repeated in the spring and autumn of 2018.
L'Oréal X Fiber Display
There were also points for the high quality placement for the design introducing new make-up products from L'Oréal Paris. The ¼ Chep premium display with an unusual look that, with its rounded shelves, integrated platforms and testers and embossed blinds, manages to convince through a decorative product display that reflects the brand's top standards.
POPAI D-A-CH e.V. is a non-profit organization, that is recognized as a "centre of excellence and a communication platform in marketing and retail". Alongside criteria like aesthetics and creativity, an independent jury also looks at compliance to trading standards and the effect on buying behaviour. This year we received nearly 60 entries in 15 categories, and the 25-person jury, experts in marketing, branding, trading, design and teaching determined the winner during the exhibition in February at the EuroCIS trade fair in Düsseldorf.